Lindenhurst New York
Looking for the Lindenhurst Patch?
Visit Venetian Shores, The Beach Hut and Water Spray Park.
Located in the Town of Babylon, Lindenhurst is the the fourth largest incorporated village in New York State, and is known on Long Island for its local history, vibrant main street, restaurants and industry.
Sunset viewed from the Cowan Marina, November 2009
11757 Business Directory
Marine Supplies, Boat Sales and Marinas - Expanded Section!

View the Business Directory
Visit the Village Lanterne Restaurant.
Looking for the ever-popular Black Forest Bakery or Tennessee Jed's?
Shop at the Deer Park Outlets


Historic Photographs of Lindenhurst Long Island
View Images from the past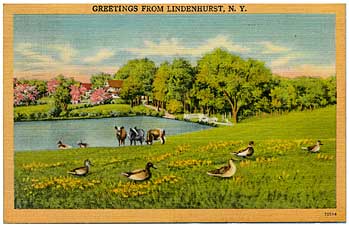 Postcard depicting Feller's Pond, postmarked 1949.